Our 2017 Main Production was Annie, The heart-warming story of a plucky orphan who sets out to find her real parents with the help of Oliver Warbucks, a rich industrialist, much to the chagrin of Mrs Hannigan who runs the orphanage.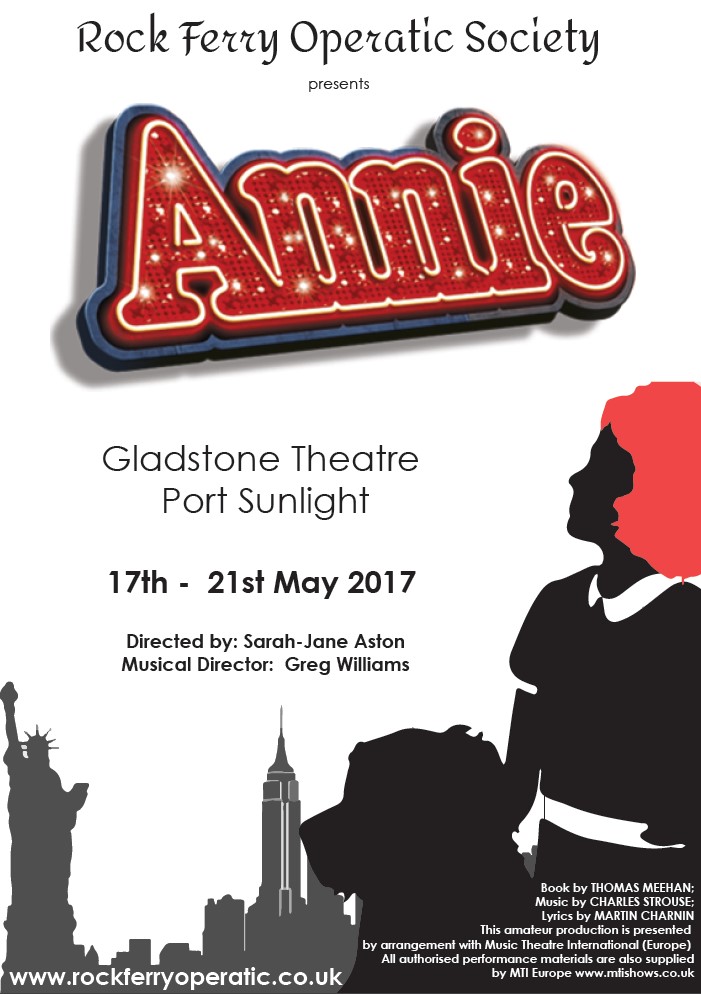 We enjoyed putting on this show immensely! We were fortunate to have two teams of fantastic Orphans, two leading ladies Niamh Lester and Lily Peers in the titular role and the fantastic Stuart Raphel as Oliver 'Daddy' Warbucks.
We welcomed Sarah-Jane Aston as Director for this production with choreography support from Kate Yates, who also played Grace Farrell in the production.
Our villains were played by Katie Peers as Miss Hannigan, Stuart Clay as 'Rooster' Hannigan and Wendy Copeland Blair as the gangster's moll Lily St Regis.
ROCK FERRY OPERATIC SOCIETY. ANNIE . 19TH MAY 2017-05-28
Rock Ferry are not a big society but they loom large in terms of their productions. Using limited resources to maximum effect, with a strong and loyal band of players and back stage crew they continually give their audience fine entertainment. Annie was no exception.
Sarah-Jane Aston doubled as Director and Choreographer combining with Musical Director Greg Williams and Kate Yates (Choreographer) to aquit themselves as a polished production team, getting the most of their cast of children and adults.
Children are of course the mainstay of this particular show and the team that I saw on the Friday (two teams were featured in the course of the week) were well disciplined and effective in all they were called upon to do and I am sure the other team were equally so. Lily Peers played the eponymous heroine when I saw it and gave fine performances in both the singing and acting stakes. Niamh Lester was her counterpart and I have heard only good reports of her performance.
Good backing from the adult characters including a very strong showing from Katie Peers as Miss Hannigan. Stuart Raphel (Daddy Warbucks) is a seasoned performer and he and Kate Yates playing (Grace Farrell) brought the billionaire and his Secretary to life.
Stuart Clay as Rooster with his "friend" Lily St Regis certainly caught the mood as the prospective con artists. Their song "Easy Street" in company with Miss Hannigan was very well done. Added to this already talented cast were a host of players in various roles all of which enhanced the overall show.
All in all this was Amateur Theatre doing what it does best. Well done to all.
P.S. Congratulations to Diva ( Sandy ) what would Annie be without the Dog.
Budge Grounsell, NODA Representative