Our 2018 main production was Rodgers and Hammerstein's Carousel. The challenge of bringing this 1945 musical set in Maine, New England to Port Sunlight was met by our Director, Sarah-Jane Aston with musical direction from Greg Williams and choreography from Stephanie George.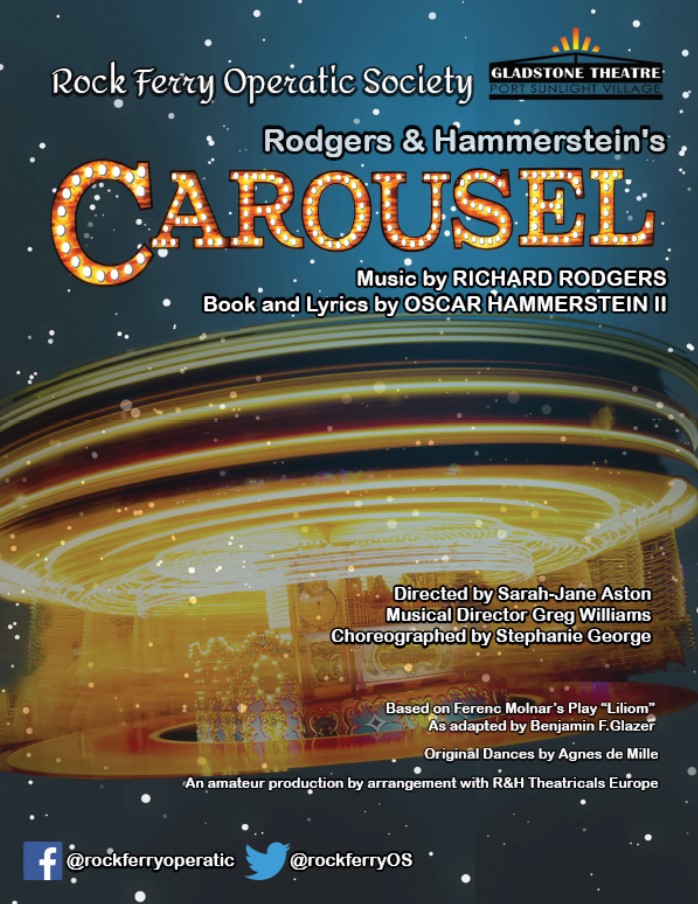 Carousel is a musical very much of its time, and portrays the difficult subject of domestic abuse in a manner that conflicts with modern values. The story centres around the challenging relationship between Billy Bigelow (a Carousel Barker) and Julie Jordan (a Maine millworker).
We worked conscientiously with the subject matter to bring the memorable music and storyline to life.
We are particularly thankful to an enthusiastic chorus, dancers and youngsters who took part, especially Lauren Wood who danced Louise Bigelow's ballet in the second act so beautifully.
CAROUSEL. Rock Ferry Operatic Soc. Gladstone Theatre. 31/10/18
Carousel is one of Rodgers and Hammerstein's best shows with great music and a pleasing but slightly dark romantic story. It is the second of their major shows following the success of Oklahoma and gives rise to one of their best scores.
Director Sarah Jane Aston has given us a conventional but grand production of "Carousel," in the sense that the show that takes few risks but preserves and protects all the original values of a great American musical. This isn't obvious at first glance, because the opening features an abstract vision of a carousel using dancers to emulate the carousel; but the rest of the musical settles into visual comfort zones of scenes set along the waterfront of the 19th-century New England mill town.
There are many ways to update vintage material in an attempt to make it more "relevant" for so called modern taste but it's good to see a classic musical as it was written and how it was meant to be played.
The Director was supported by Musical Director Greg Williams who brings many years expertise to this function and Choreographer Stephanie George who shows a creative flair in her work.
The love story is haunting, with its dark plot about an impulsive hero, Billy Bigelow, who brings nothing but tragedy to himself and his wife, Julie Jordan, who beneath his sometime macho approach he clearly loves. The lovers were played by Jason Collinson and Danielle Vernon two experienced performers who handled their roles very well. Bigelow's "soliloquy" – My Boy Bill, was very fine.
The sub plot comes in the romance between Julie's friend, Carrie Pipperidge and Mr Snow. They have some of the best songs in the show and Kate Yates and Dave Coleman made the most of the opportunity. The change from the youthful dreaming engendered by "When I marry Mr Snow" and "When the children are asleep" to a more staid married couple with nine children was handled very well.
Binny Williams as Julie's warmhearted friend, Nettie Fowler showed her vocal talents in "June is bustin out all over" and the song dear to all Merseysiders "You'll never walk alone".
Mark Evans endowed the villainous Jigger Craigin with the kind of style that draws young ladies to bad boys like bees to honey, as shown in his attempt to seduce Carrie Pipperidge; whilst Claire Lester as Mrs Mullin attempting to win Billy back as her Fairground Barker and would be lover was a warning to us all to remember the misquotation "Hell hath no fury like a woman scorned"
Lauren Wood as Billy's daughter Louise Bigelow showed all the problems which traditionally face 16 year old girls (her actual age) and showed that she has a future in the theatre.
Good and necessary support came from Lis Young as the Heavanly Friend, Huw Richards, the Carnival Boy, Tommy Taylor as Mr Bascombe and Ken Twist as the Starkeeper and Doctor. The "Snow" Children suitably attired and disciplined, the Dancers and cast ensemble all made their contribution to the success of this production.
Complements too to the stage crew and Backstage helpers without whom ?
Budge Grounsell, Noda Representative.