Our main production in 2019 was Seussical The Musical. A colourful and zany show that went down a treat with our audiences!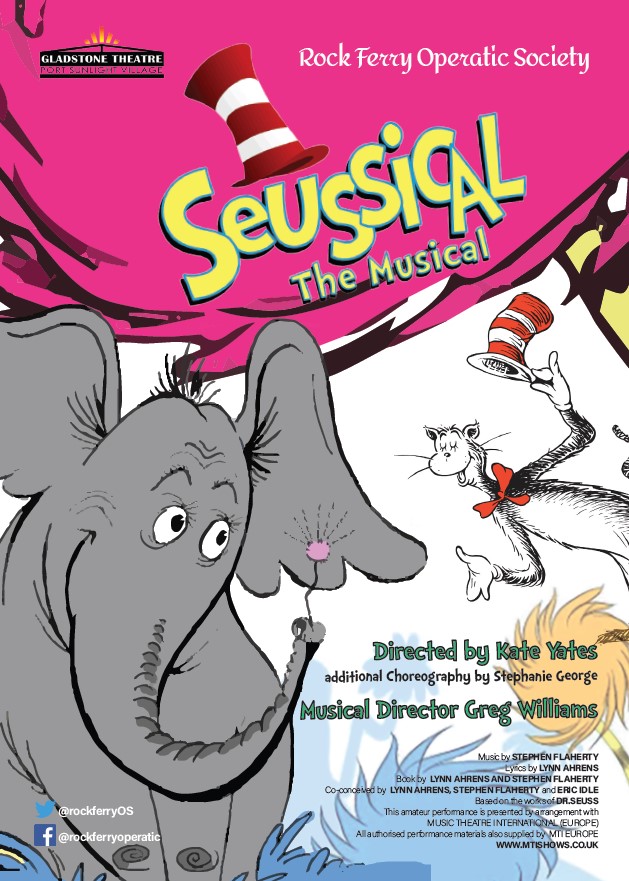 The show was performed between 16th and 18th May 2019 at The Gladstone Theatre and follows Horton the Elephant's adventures when he hears a whole civilisation of tiny people, 'the Whos', who live on a clover. Horton tries to convince the other Jungle animals of the Whos existence and when nobody believes him sets out to prove that 'a person's a person, no matter how small'!
This musical based on Dr Seuss's popular children's books 'Horton hears a Who' and 'The Cat in the Hat' was great fun to put on and we thank all our fabulous cast, back-stage crew, musicians, Director Kate Yates and Musical Director Greg Williams and all who contributed to making the show a great success.
Noda Review of RFOS's Seussical the Musical
Seussical the Musical. Rock Ferry Operatic Society. Gladstone Theatre 16/5/2019
Unusual name? What's it all about.. don't ask. I have spoken to many people who have seen "Seussical" and nobody seems to understand the actual plot. It doesn't matter; all you have to do is to sit back and enjoy this fantastic fantasmajorical show. Rock Ferry have excelled themselves with this one.
Led by an excellent production team, Director Kate Yates assisted by Sarah Jane Aston, Musical Director Greg Williams and additional choreography by Stephanie George this splendid entertainment with it's strong cast leapt at you from the stage, great stuff.
"The cat in the hat" role belonged to Tony Lacey and he took full advantage of the role demonstrating his considerable theatrical experience. If you think the cat is strange meet Jason Collinson as Horton the Elephant; full of pathos and beautifully played. Harry Collinson did so well as Jo Jo a character with a "BIG imagination and a big talent to match.
Rebecca Hulse was great as Gertrude McFuzz (don't you love these names and there are more to come). Rebecca is one of three sisters (two of whom Rebecca and Holly are in this production) who will all without doubt continue to make their mark on the stage. Then there is Mayzie La Bird (Katie Peers) who obviously enjoys the crazy world she inhabits as well as looking good in her splendid costume. Watch out Norman Swartzkopf, remember him|? ; you are about to be replaced by Laura Cooper who played formidable General G.K Schmitz I'm glad she wasn't around when I did my National Service.
Ailsa Harrop and David Coleman, of the gloriously dyed hair, are the Mayor and Mayoress of Who-Ville and Janette Heydon and Lydia Prosser were respectively Sour and Young Kangeroo. – Humph !!
The Bird Girls Annabel Partington, Laura Jones and Holly Hulse were very good as Mayzie's friends, who acted as a Greek chorus. They looked good and their movement and singing was first class.
Even the Grinch made an appearance with thanks to Claudia Roper and here "Came the judge as well in the shape of Judge Yertle the turtle! (Claire Lester).
I must give special mention to 'Thing 1' and 'Thing 2' played by Poppy Yates and Kimberley Gaunt. They were quite outstanding, amazing considering their youth. I just wish I had their bendy qualities. The "Wickershams", Wendy Copeland-Blair, Olivia Clark, Claudia Roper, Rachel Taylor and Graham Lyne were Sour Kangeroo's "henchmonkeys" who danced and sang in good support.
A large number of the cast were youngsters, many from the Hoylake School of Dance and Drama. The discipline of all these young people on stage was exemplary and their enjoyment in taking part was absolutely obvious. To all of them and all the chorus members and Dancers whose contribution is so important to a show success – well done!
This really was a splendid night's entertainment with all concerned either on or off stage doing their bit in proving that Rock Ferry once again showed what a fine Society they are.